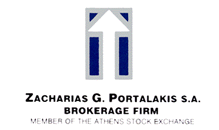 A few words about the collector Zacharias G. Portalakis and his collection
Zacharias Portalakis, broker and systematic collector of modern Greek art, sponsor of the more important exhibitions of the Athens National Gallery and recently member of its Board of Directors, was born in Iraklion, Crete in 1947.
The financial problems of his family have obliged him to choose to study in the Military Medicine Scholl, but he has not been accepted as a student because of a problem with his eyes. So, he opted to study Economics in the University of Piraeus. He financed his studies on his own, by writing and publishing notes from his University courses for other students, and by giving private lessons. When he graduated, he worked initially as a tutor and, by chance, he discovered through one of his students, the Greek Stock Market, where he settled until today. He created his own brokerage company, but also the Association of Greek Brokers, of which he was the first president.
Although his younger sister Sophia was studying painting in the Athens Fine Arts School, he had not any special relationship with the Fine Arts world until 1986. The first work that touched him was one painting by Yannis Tsarouhis which he has seen in a group exhibition he visited by courtesy. From this painting began his important collection. Since then, he started buying all works he liked, without having in mind to create a collection. His initiation in Fine Arts has been made through his personal acquaintance with important artists, such as Capralos, Zongolopoulos and Stamos. The idea for his collection was born from admiration to the personality and the work of these extraordinary men.
The thematic approach for this collection was to record the work of internationally established Greek artists: Kounellis, Takis, Stamos, Koulentianos, Baziotes, Yannakos, Samaras, Pavlos, Antonakos, Lekakis, Chryssa, Xenakis, Ratsikas, Philolaos, Vlavianos, Michaelides,... Soon his collection acquired a concrete chronological orientation, focussing mainly to works of major Greek painters and sculptors of the post-second World War period, and to a few contemporary artists. In the same time, his collection began to expand also to works of some European and American artists who, with their works, have left their mark on contemporary art history: Warhall, Mata, Cesar, etc. Nevertheless, his collection never ceased to focus on Greek artists who have played a role in Western World's Art History of the post-second World War period. Its core are the paintings of Theodoros Stamos, covering a period from 1946 to 1994.
This collection, comprising today more than 800 works and considered as one of the bigger in Greek Fine Arts history, will be offered for the creation of a contemporary Fine Arts Museum in his homeland, Iraklion.